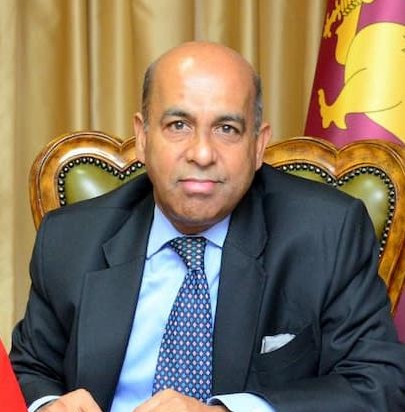 H.E. Mr. Pakeer Mohideen Amza – Former Ambassador from 16.01.2016 to 28.06.2019
Ambassador P.M. Amza is a member of the Sri Lanka Foreign Service (SLFS) with experience in diplomacy spanning over 25 years that includes various assignments at the Ministry of Foreign Affairs of Sri Lanka and Sri Lanka's Missions abroad.
Prior to assuming office as Ambassador of Sri Lanka to the Kingdom of Saudi Arabia in November 2021, he served as Additional Secretary/Economic Affairs from July 2019 to October 2021.
He also served as Sri Lanka's Ambassador to the Republic of Turkey with concurrent accreditation to Georgia and Ukraine from January 2016 to June 2019 and Ambassador of Sri Lanka to Belgium with concurrent accreditation to Luxembourg and Head of Mission to EU from August 2012 to July 2014.
At the Foreign Ministry he also served as Assistant Director, East Asia Division from July 1994 to September 1994, Deputy Director, East Asia Division from March 1999 to August 2000, Deputy Chief of Protocol from May 2004 to January 2005, Chief of Protocol from February 2005 to July 2006 & January 2015 to January 2016 and Director General, Economic Affairs from August 2014 to January 2015.
Ambassador Amza's diplomatic assignments abroad also included working at Sri Lanka Missions in Cairo (October 1995 - March 1999), Singapore (August 2000 - December 2003), Chennai (July 2006 - August 2009), London (August 2009 - February 2012) and Berlin (February 2012 - August 2012).
Prior to joining SLFS, he had also served as Assistant Director of Education at the Ministry of Education of Sri Lanka from September 1988 to July 1994.
Ambassador Amza, holds a Master Degree in Political Science and Bachelor Degree in Business Administration.
He is married with two children.